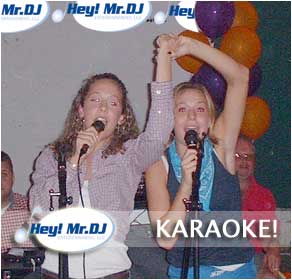 Hey! Mr. DJ Karaoke can bring your party, bar, or night club to life!
This is the real deal. We bring a complete karaoke library of over 60,000 songs, we bring the microphones and sound system, and we bring the TV screens. You provide the talent! Our karaoke show is the best-sounding and simply the most fun.
At parties, our karaoke brings energy, fun, and great memories! We offer a variety of karaoke styles and packages to best suit your party, bar, or club.
We are very experienced in the Karaoke business. For bars and clubs, a good, established karaoke night in your establishment can increase your profits by a substantial amount. It can also help the overall popularity of your business for other nights as well.
Are you tired of Karaoke?